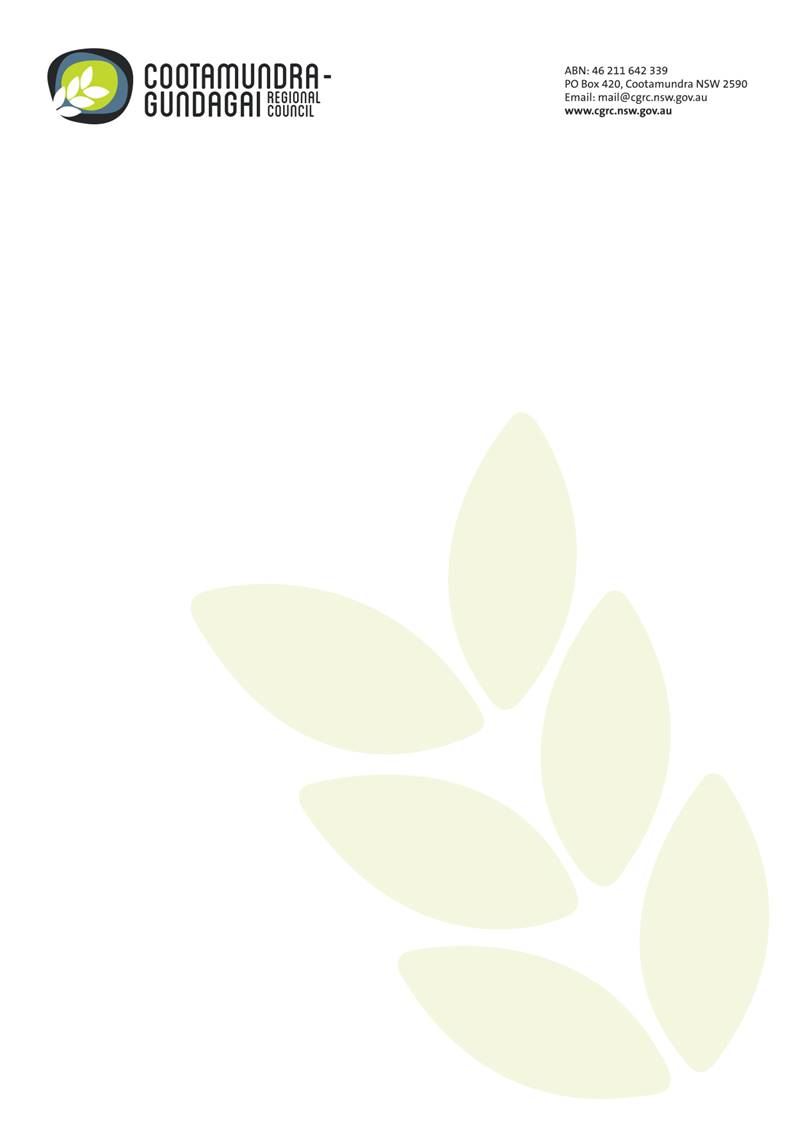 Business
Paper
Late Reports
Ordinary Council Meeting
Alby Schultz Meeting Centre,
Cootamundra
6:00PM, Tuesday 11th December, 2018
Administration Centres: 1300 459 689
| | |
| --- | --- |
| Ordinary Council Meeting Agenda | 11 December 2018 |
8.1 Corporate Services Directorate
DOCUMENT NUMBER

293725

REPORTING OFFICER

Tim Swan, Manager Finance

AUTHORISING OFFICER

Phil McMurray, Acting General Manager

RELEVANCE TO COMMUNITY STRATEGIC PLAN

4. Good governance: an actively engaged community and strong leadership team

4.3 Cootamundra-Gundagai Regional Council is a premier local government Council

FINANCIAL IMPLICATIONS

Council's investment income for November 2018 was $71,103, exceeding the budgeted figure of $65,526 by 8.5%.

LEGISLATIVE IMPLICATIONS

Council investments comply fully with section 625 of the Local Government Act (NSW) 1993, Local Government (General) Regulation 2005 paragraph 212 and Council's Investment Policy.

POLICY IMPLICATIONS

The Investment Policy was adopted on 31 July 2018 and is due for review on 31 July 2021.

1. Investment Report P1 ⇩

2. Investment Report P2-5 ⇩

3. Reserves ⇩
That the Investment Report as at 30 November 2018 be received and noted.
Introduction
Returns on investments have exceeded budget and benchmarks for November 2018.
Discussion
Investments for November 2018 have produced interest of $71,103.
Income is 9% ahead of budget, and the net return is significantly higher than the benchmark.
The unusual number of grant funded projects being managed by council are making cashflow projections very difficult. To ensure that adequate funds are available to meet commitments, while maximising investment income, several at-call accounts have been established. These accounts allow immediate access to funds, and generate interest at a superior rate to the operating account.
This report is being submitted as a late item because of the short time between month end and the close of the business papers.
8.4 Asset Management Directorate
DOCUMENT NUMBER

293855

REPORTING OFFICER

Marianne McInerney, Personal Assistant to the General Manager

AUTHORISING OFFICER

Phil McMurray, Acting General Manager

RELEVANCE TO COMMUNITY STRATEGIC PLAN

3. Sustainable natural and built environments: we connect with the places and spaces around us

3.2 Our built environments support and enhance liveability

FINANCIAL IMPLICATIONS

$35,000 for the purchase of a Scrubber Cleaner and
High Pressure Water Cleaner to be funded from the Plant Replacement Program

LEGISLATIVE IMPLICATIONS

There are no Legislative implications associated with this report.

POLICY IMPLICATIONS

To comply with Council's Procurement Policy.

Nil
1. The Plant replacement program be modified to include a suitable scrubber unit with a budget provision of $35,000.
2. Council purchase the Hako B120 R WB 700 scrubber unit at a cost of $30,000 (inc. GST).
3. Recommend that Council Purchases a Spitwater High Pressure washer at a cost of $5,000(inc. GST).
Introduction
Following the recent reconstruction of Sheridan Street (5.4 million dollar upgrade) the new footpath requires regular cleaning to maintain an acceptable surface for public use.
Discussion
The specific footpath pavers chosen in Sheridan Street require a cleaning unit known as a "Scrubber". This unit utilises water and environmentally friendly cleaning solution to scrub the pavers clean. Currently a sweeper unit is utilised which has not had the desired result, leaving much of the surface stained, especially in front of the various food outlets, and a fine dust layer remaining.
Various methods have been used to clean the surface including high pressure water blasters. None to date have proven to be satisfactory over a longer period.
To ensure that the optimum unit was selected for recommendation for Council a panel of key staff stakeholders was formed as follows:
· Project Engineer
· Works Overseer
· Parks & Gardens Supervisor
· Mechanical Workshop Supervisor
· WHS & Risk Management Officer
The six leading brands of scrubber units were short listed for assessment, being K'A'rcher, Nilfisk, Factory Cat, ASC, Tennant and Hako. All of these units were in use at other councils. After contacting several councils the list was reduced with the Nilfisk and Factory Cat brands being discarded following feedback received.
The remaining four units were trialled on site on Sheridan Street over a period of 6 weeks. The ASC unit did not achieve the expected results and the K'A'rcher unit did not fit into most of the narrow confines of the footpath. The Tennant and the Hako units were very good and cleaned well, with the Hako performing better of the two. Further, the Hako "Scrubber Cleaner", at a cost of $30,000(inc. GST) is a cheaper unit than the Tennant and has simpler control features.
During trials it was determined that a separate high pressure washer will be needed around the furniture and steps. A Spitwater High Pressure Washer is recommended at an estimated cost of $5,000(inc. GST).
| | |
| --- | --- |
| Ordinary Council Meeting Agenda | 11 December 2018 |