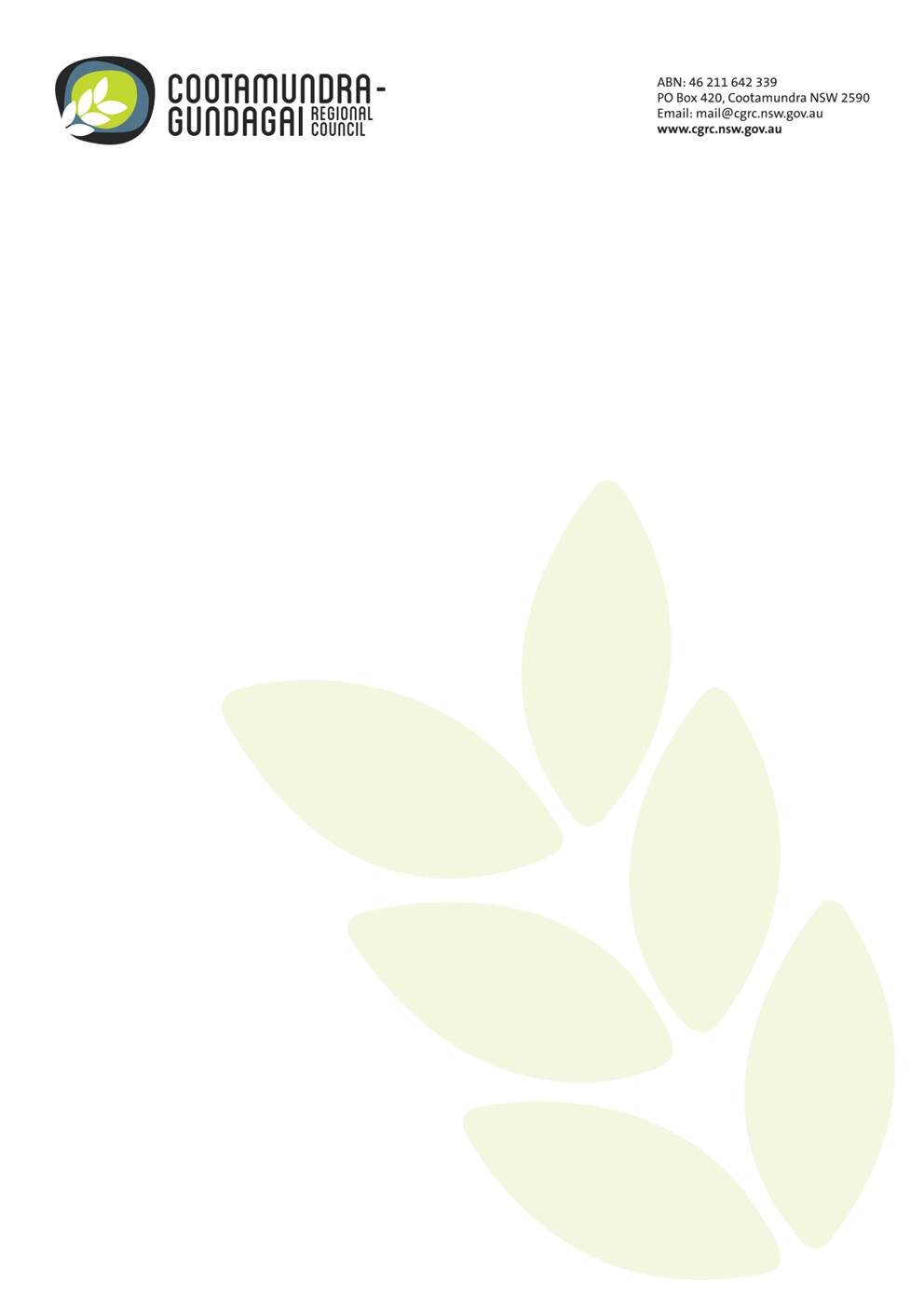 Business
Paper
Extraordinary Council Meeting
Alby Schultz meeting Centre,
Cootamundra
4:00 PM, Tuesday 15TH SEPTEMBER, 2020
Administration Centres: 1300 459 689
| | |
| --- | --- |
| Extraordinary Council Meeting Agenda | 15 September 2020 |
The Mayor & Councillors
Cootamundra-Gundagai Regional Council
PO Box 420
Cootamundra NSW 2590
NOTICE OF MEETING
An Extraordinary Meeting of Council will be held in the Alby Schultz Meeting Centre, Cootamundra on:
Tuesday, 15th September, 2020 at 4:00 PM
The agenda for the meeting is enclosed.
Phillip McMurray
General Manager
Council acknowledges the Wiradjuri people, the Traditional Custodians of the Land at which the meeting is held and pays its respects to Elders, both past and present, of the Wiradjuri Nation and extends that respect to other Aboriginal people who are present.
2 Open Forums are not had at extraordinary meetings of council
DOCUMENT NUMBER

335224

REPORTING OFFICER

Marianne McInerney, Personal Assistant to the General Manager

AUTHORISING OFFICER

Phillip McMurray, General Manager

RELEVANCE TO COMMUNITY STRATEGIC PLAN

4. Good governance: an actively engaged community and strong leadership team

4.3 Cootamundra-Gundagai Regional Council is a premier local government Council

FINANCIAL IMPLICATIONS

There are no Financial implications associated with this report.

LEGISLATIVE IMPLICATIONS

To facilitate compliance with sections 10 and 11 of the Local Government Act 1993.

POLICY IMPLICATIONS

There are no Policy implications associated with this report.

Nil
Note
Council's Code of Meeting Practice allows members of the public present to indicate whether they wish to make representations to the meeting, before it is closed to the public, as to whether that part of the meeting dealing with any or all of the matters listed should be closed.
1. Item 5.2 be considered in closed Council at which the press and public are excluded in accordance with the applicable provisions of the Local Government Act, 1993 and related public interest reasons detailed.
2. In accordance with section 11 (2) and (3) of the Local Government Act, 1993, the reports, correspondence and other documentation relating to Item 5.2 be withheld from the press and public.
5.2 Proposed Acquisition Notice (PAN) to acquire Lot 7300 DP 1149008 and Lot 7004 DP 1128797
Provisions for Confidentiality
Section 10A (2) (d(ii)) – The Confidential Report contains information that would, if disclosed, confer a commercial advantage on a competitor of the council.
Public Interest
It is considered that discussions of this matter in open Council would, on balance, be contrary to the public interest as it would prejudice Council's ability to secure the optimum outcome for the community..